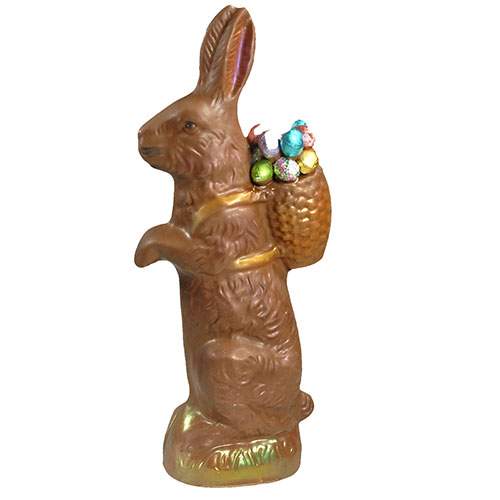 Standing Bunny With Basket & Eggs
Original price
$5.95
-
Original price
$62.95
Chocolate bunnies in three sizes with a chocolate basket & 'eggs' on its back. A chocolate lover's dream! The detailed rabbit molds are available in premium milk, dark or white chocolate. Available in the following sizes:
a small, solid, three-dimensional, 3 ounces, 4½ x 2 x 1½" chocolate bunny delivered in a sealed bag
a medium, solid, three-dimensional, 2.50 pounds, 10¾ x 5 x 3¼" chocolate bunny highlighted with colored dust and sealed with a bow
a large, semi-solid, three-dimensional, 3.75 pounds, 17 x 7 x 4½" chocolate bunny highlighted with colored dust and sealed with a bow
Colored foil eggs are included with the medium and large bunnies. Pectin jelly beans come with the small bunny. But please note: the jelly beans or foil eggs will be substituted when unavailable.
In addition to the amazing flavor, the rabbits are hand painted with edible highlight dust to create a visual treat (optional). The ears are highlighted pink, the basket gold, and the grass green. Please note: the highlight color will vary with the flavor of chocolate ordered (milk vs dark vs white) - see the image of sample highlight colors.
Shipping Details

We want you to have an amazing chocolate experience with our candies. Shipping is an important part of the process and requires special care. We hand make each order and want you to receive it as fresh as possible, therefore we ship according to the following details.

Someone Available

Please make sure someone will be available to receive the order when it is delivered. If no one is home, the shipper will leave the package and we don't want it to melt!

When We Ship

When an order is placed before 12:00 pm CST, we try to ship it out the same day (except on Fridays). Otherwise, based on our shipping policy, we try to ship our made-to-order products the following business day (except on Fridays).

To ensure the best quality product, orders will be shipped on certain days of the week depending upon the distance. No shipments will go out on Fridays. We ship Monday through Thursday for Illinois shipments, out-of-state locations within 1-day standard ground service from our store, and Next Day Air orders. For all other shipments, and dependent on the scheduled delivery time, we will not ship on Wednesday unless the location is within a 2-day ground schedule or a guaranteed 2-day or overnight preference. Please remember that Saturdays and Sundays are NOT part of the shipping schedule, only business days are included when determining shipment arrival date. If you want your order sooner, please upgrade your shipping.
Shipping To Warm Weather

Between April 1st and October 30th, or longer based on our discretion and the weather, a reusable frozen gel pack will be included in the packaging. A cold pack fee of $3.00 will be added when checking out.
About Us

Morkes Chocolates provides high quality and diverse tastes at affordable prices. With a history of candy making going all the way back to 1920, we at Morkes Chocolates continue to make our chocolate confections from scratch, with all natural chocolate, pure butter, fresh roasted nuts, and a lot of fun. Our donuts and caramel apples are also handmade with the same care and quality.

Respecting the traditional chocolates of the past, Morkes Chocolates manufacturers our own cream centers - butter, vanilla, maple, orange and raspberry creams, to name a few. However, we are not an 'old' chocolate company in any sense. We celebrate innovation and are constantly testing new recipes to add to our chocolate line, while always striving to maintain our true mission of a pure, natural and great tasting chocolate confection.

Ultimately, Morkes Chocolates' mission is:

To supply our customers with the best tasting products we can make.To service our customers with friendly and caring service.To offer a creative and fun atmosphere so the "kid in the candy store" is never forgotten. To invest in and provide a positive image for the community.
Your happy palate is our best reward!